The Cranborne Lockyers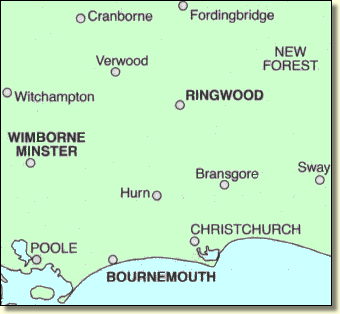 Just north of the present day towns of Bournemouth and Poole, on the edge of the New Forest, lies an area that was once part of the great heathlands of Dorset. It includes the villages of Alderholt, Cranborne, Edmondsham, Horton and Woodlands, together with the rapidly expanding town of Verwood. The acid heathland soil is not fertile and the original inhabitants of the heath struggled to make a living from a variety of simple occupations, such as broom making, pottery and hawking. An early Verwood resident remarked that it was 'the poorest place on earth'. Nevertheless, this is where the Lockyers lived and worked for some three centuries.
When Bournemouth began rapidly to expand in the late nineteenth century, many decided to escape from the grinding poverty which was the norm for heathland dwellers and moved away. My own Lockyer ancestors sought work in the building of the new seaside town and moved to the village of Pokesdown, now part of the Borough of Bournemouth. These were tough, honest people, whose history I have tried to record on these pages. I offer the results of my own work, built upon the many years of research by my brother Geoff, and welcome input from anyone interested in the Lockyer family.
Doug Deedman


| | | | |
| --- | --- | --- | --- |
| Explore main Cranborne Lockyer Tree | | Unattached Lockyers | |
| Records of other Lockyer families | | Search for individual | |
| Go back to Doug's Home Page | | Links to other sites | |
---
Feedback to webmaster@harvestmouse.co.uk